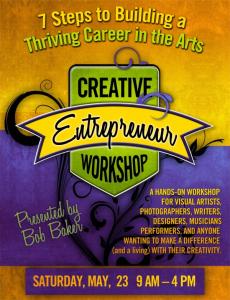 Are you ready to be a Creative Entrepreneur? Then take this hands-on workshop for musicians, visual artists, writers, photographers, designers, performers, and anyone wanting to make a difference (and a living) with their creativity.

Saturday, May 23
9:00 AM to 4:00 PM
with breaks for snacks - a light lunch included

Paint St Louis Studios
1926 Allen Ave
St Louis, MO 63104

Learn more and register here
http://www.paintstlouis.org/Bob_Baker-CEW.htm

In this seven-hour, interactive workshop, Bob Baker will help you uncover the keys to thriving with your unique form of creative expression. You will learn and be ready to implement:

- The foundational principles that every creative entrepreneur needs to build a career and a legacy
- The key factors that separate creative pros from hobbyists
- How to beat the four Creativity Career Killers
- The lame excuses that are holding you back - and how to obliterate...